International reference center for endoscopic and minimally invasive treatment and surgical procedures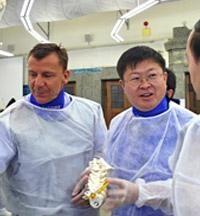 The APEX Spine Center in cooperation with CEPTOVATION, JOIMAX and AESCULAP has now become an internationally recognized training center. Doctors from all over the world regularly sit in to learn more about the surgical methods, especially disc surgery from Dr. Schubert to inform and educate.
In addition, courses for spine specialists are held regularly in order to convey the new procedures to interested colleagues by means of live operations and workshops .
dr Helmbrecht teaches and instructs interested colleagues from all over the world in special intervertebral disc prosthetics in the area of the cervical spine. With more than 150 operations on the cervical spine every year, he is one of the leading spine surgeons. Another focus is the complicated revision operations in the area of the cervical, thoracic and lumbar spine.
dr Ivo Vocko is the specialist for lumbar disc prosthetics as well as for thoracoscopic and endoscopic vertebral body replacement operations . In this special field, he regularly gives lectures and conducts live operations at home and abroad. Another focus is kyphoplasty , ie the minimally invasive treatment of collapsed vertebral bodies, caused, for example, by osteoporosis.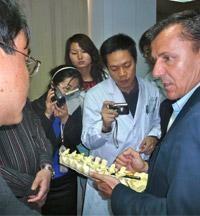 The renowned specialists in orthopedics and neurosurgery, Dr. medical Michael Schubert and Dr. medical Armin Helmbrecht and Dr. Ivo Vocko are part of a global network of spine specialists dedicated to the establishment and further development of minimally invasive and endoscopic spine surgery.
They are also active members of several internationally recognized societies, such as the International Society for Minimal Intervention in Spine Surgery (ISMISS), International Intradiscal Spine Society (IITSS), the German Society for Spine Surgery (DGW), the German Society for Orthopedics and Traumatology ( DGOU) and the German Society for Neurosurgery (DGNC).