ATOS Clinic Munich

Our APEX SPINE CENTER is located in cooperation with our partners in the ATOS Clinic in Munich. For an inpatient stay, our private patients and/or self-paying patients in the ATOS Clinic have access to a homely ambience with a hotel character in addition to 4 ultra-modern operating theaters. The single rooms are all very comfortably equipped including a flat screen, DVD player, Internet and fax connection. Accompanying persons can of course be accommodated in the room. In addition, 2 suites are offered.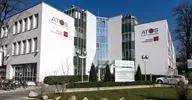 Top medicine with top service – the two ATOS clinics in Heidelberg and Munich have made an excellent name for themselves with this concept.
At the ATOS Clinic in Munich, excellent physicians in the 15 specialist practices offer you comprehensive and interdisciplinary services for all your health concerns, both inpatient and outpatient. Whether it's the shoulder, the hip or the knee, whether it's about the spine or general medical questions - all doctors are highly specialized in their field and therefore also have a great deal of experience. This in turn gives our patients maximum security.
With us, the level of medical performance goes hand in hand with maximum comfort. After all, feeling good is important to recovery. The attentive nursing and service staff contributes just as much to this as the beautifully and comfortably furnished rooms. You shouldn't feel like you're in a clinic. Instead, you will find the pleasant and comfortable ambience of a first-class hotel with us.