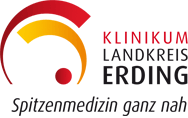 Since 2008 we work together with the Klinikum (Clinic) Erding - a teaching hospital of the University of Munich.
The Klinikum Erding is situated in a rural environment in the southwestern periphery of Erding. The primary health care hospital disposes of a surgery, anesthesia and internal medicine department as well as of a new computer tomograph and an intensive care unit. Hence our patients from upper Bavaria find comprehensive treatment close to their homes.
Daily visits by one of our neurosurgeons are a matter of course. Costs are covered by German statutory and private health care insurance.
Klinikum Erding, Bajuwarenstraße 5, 85435 Erding
Tel +49 8122 / 59-0
Fax +49 8122 / 59-1748
Web www.kkh-erding.de
email This email address is being protected from spambots. You need JavaScript enabled to view it.