Especially after the Olympic Games in London many people ask themselves: "Is sports really good? And they ask this because they know from the media that even the super star Usain Bolt but also other athletes like Vitali Klitschko, Mario Balotelli, Timo Boll, Mark Spitz, Miroslav Klose had already suffered from severe back pain or a herniated disk. Some top athletes have also been treated in our center.
Not even the best athletes are free of back pain and statistically suffer as much as any average person. Sometimes they do even worse. High performance sports means high strain on the whole body and organism. Especially athletes with a genetic or family predisposition as for example slipped vertebrae, might compensate for that for a couple of years with their high level of fitness. Constant and extreme strains, however, can then lead - just like in the average population - to severe back or neck pain or even to a herniated disk.
Many might ask themselves: How can this happen to a well trained top athlete? The answer is mostly very simple and straightforward: We know from the many top athletes that were treat in our center: Most high performance athletes but also recreational athletes focus too much on training of their legs, arms and shoulders and too little on their abdominal muscles. The back musculature is completely neglected in most athletes!
A fine example is the reigning world champion in rowing, Matthias Schömann-Finck (http://www.schnellundleicht.com). One would suppose that rowers of all people should have strong back muscles. A test in our center, however, could disprove that. After a successful endoscopic disk surgery he made it to the podium this year again.
Congratulations!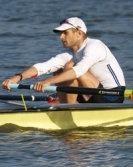 Dear Dr. Schubert,
it's done! After all this season we made it up to the world champions! Last Saturday my crew of the lightweights eight made it to the top in Ploviv in Bulgaria! I am especially pleased with this result as I made it "only" to silver three times in this category and as I had to watch the German lightweights eight winning in 2010 on television during my rehab! This reminded me again of how well I do after my spinal disk surgery!
A key to success surely wasn't only the endoscopic surgery but the fact that after the treatment he dedicated more time on targeted strengthening his back muscles!
Conclusion: Sports can be really good! But right daily dose is important as well as targeted strengthening and correct compensation for existing strains. Then also in high performance sports back pain and maybe even herniated disks can be prevented. All by a specially tailored back program!
Regular exercise is not only good for the heart and circulation. It has been shown that properly dosed physical activity prevents from back problems, on the other hand, sports activities help to alleviate already existing back problems.

On the following pages we show which sports are good for you when you suffer from back pain. We will also give you general advice on how deal with back problems in your daily life and especially also on the conduct after a spine surgery and what physical activities will be appropriate for you and to what you should give particular attention.
SCHWIMMING / AQUAJOGGING

is the best strengthening program for your back and is good for the entire organism. It will boost your cardiovascular system and your metabolism; important muscles - especially the back muscles – will get stronger. Water buoyancy relieves the joints and spine, which is also especially helpful for acute symptoms from the intervertebral discs. The resistance from the water increases the training stimulus of the muscles. It is recommended to back or breast stroke.


Risks: little risk for back and spine. Be careful when swimming breaststroke: For pre-existing problems in the neck-shoulder area is a risk of additional tension and a resultant increased hyper lordosis. Hence an alternation between at least two strokes is recommended.
NORDIC WALKING



is a good workout for the upper body - it is more of a challenge than when running. The rhythmic alternation of stress and relief not only supports the general endurance, but strengthens also the neck and shoulder muscles.


Risks: little risk for back and spine.
Caution: with poor technique, the training can lead to undesired effects! Clinging too tensely to your poles or poor physical posture may overstrain the shoulder and neck muscles.
CYCLING

good training for: the deep back muscles - the asymmetrical tread movement, similar to the effect of Nordic Walking, will strengthen the back muscles. Some of the bodyweight is taken off the spine. During cycling, the so-called erector spinae have to work intensely.


Risks: Risks are low for the back and spine.
Caution: With a poor sitting position cycling can lead even the opposite effect and cause low back pain. Proper adjustment of the seat position, handlebar and saddle should be done by a professional.
CROSS COUNTRY / DOWNHILL SKIING

a good workout for the whole body. The sliding promotes the rotation of the spine and strengthens the deep back muscles. Trains primarily the leg and arm muscles. Helps to stabilize mainly the trunk muscles.


Risks: little risk if proper attention is paid to technique.
Caution: With poor technique, the training may lead to the exact opposite! Clinging too tensely to the poles or poor physical posture overstrain the shoulder and neck muscles.
GOLF

a good training for: the cardiovascular system, musculature, motor skills, coordination but also concentration. Golf is popular not only in Germany. This is not amazing as playing golf is certainly one of the more healthy possibilites of physical activity. On average an 18 hole course takes about three to four hours. During this time one can benefit from the fresh air but also from frequent changes of coordination, concentration and walking. Being outside will additionally support your immune system.
Risks: Correct technique is very important! There is little risk when carried out correctly.
Caution: With poor technique, the training may lead to the exact opposite! Clutching the club or a bad posture - especially bending and twisting the spine too much will put strain on spinal disks, ligaments and muscles of the entire spine. This might lead to neck or back pain!
Recommendation: Regular warming up and stretching exercises are strongly recommended. With already existing back pain you should look for a teacher or coach for "back friendly" golfing.
Dr. Schubert in an interview with Jörg Vanden Berge on "golf after an endoscopic disk surgery"
Dr. Schubert in an interview with Jörg Vanden Berge and Jörg Wontorra on back pain and golf - is this possible?
Kind regards,
Dr. Michael Schubert