International reference center for endoscopic and minimally invasive spine surgery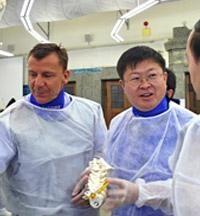 The APEX SPINE Center in cooperation with joimax® and AESCULAP has grown to an internationally acknowledged training center.
On a regular base physicians from all over the world join us to stay informed or improve their skills with our surgical procedures. Additionally continuous education courses for spine specialists are offered by Dr. Schubert where with live-surgeries and workshops all knowledge about the new techniques is passed on to interested colleagues.
Dr. Helmbrecht teaches all around the world on spinal disk protheses in the cevical spine. With more than 150 annual neck surgeries he ranges among the leading spine surgeons. A further specialty of him are complicated revision surgeries in all spine segments.
Dr. Ivo Vocko is the specialist for lumbar spinal disc protheses as well as for thoracoscopic and endoscopic vertebral body replacements. On this special topic he teaches with papers and life surgeries in Germany as well as abroad. His other focus is kyphoplasty - that is the minimally invasive treatment of vertebral body fractures due to e.g. osteoporosis.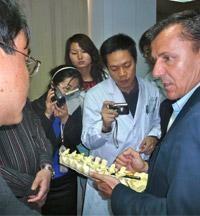 The renowned specialists for orthopedics and/or neurosurgery Dr. med. Michael Schubert and Dr.med. Armin Helmbrecht belong to a globally acting network of spinal column specialists, which among other things committed themselves to the establishment and advancement of the minimally invasive and endoscopic spinal column surgery.
In addition they are active members of some internationally acknowledged societies, e.g. the International Society for Minimal Intervention in Spine Surgery (ISMISS), the International Intradiscal Spine Society (IISS), the German society for orthopedics and traumatology as well as the German society for neurosurgery (DGNC).